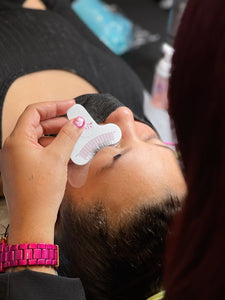 Lash Ruller (Regla de pestañas)
Esta herramienta super útil y practica te dejara saber la medida exacta de la pestaña natural de tu clienta. Es muy importante Saber el largo natural de la pestaña de tu cliente porque esto determinara la extension que le vamos a colocar. Recuerda que largos excesivos provocara el desprendimiento de la pestaña natural. 
El Paquete trae 5 Lash Ruller 
----------------------------------------------------------
This super useful and practical tool will let you know the exact measurement of your client's natural eyelash. It is very important to know the natural length of your client's eyelash because this will determine the extension that we are going to place. Remember that excessive lengths will cause the natural eyelash to detach.



The package brings 5 Lash Ruller