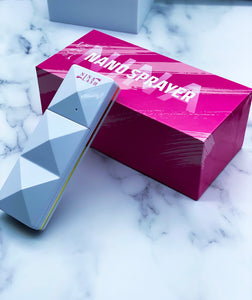 Nano Sprayer
$40.00

$40.00

Save

$25.00
---
---
!!Dile Adios al ardor en los ojos!!
Nina Nano Sprayer se utiliza para reducir drásticamente los gases de nuestro adhesivo. Las extensiones de pestañas deben curarse al final del proceso para la eliminación de gases . El Nina Nano también nos ayudara a reducir cualquier enrojecimiento o irritación de los ojos que pueda ocurrir. A diferencia de otros Nano del mercado, los nuestros vienen con una batería recargable y un cable de carga.Sin duda alguna tus clientes amaran esa sensación del rocío del agua sobre sus pestañas y lo mejor de todo, poder abrir sus ojos sin ningún tipo de ardor.

Incluye cable de carga y gotero.
-------------------------------------------
Say goodbye to burning eyes!

Nina Nano Sprayer is used to dramatically reduce fumes from our adhesive. Eyelash extensions must be cured at the end of the process for degassing. The Nina Nano will also help reduce any redness or eye irritation that may occur. Unlike other Nanos on the market, ours come with a rechargeable battery and a charging cable. Without a doubt, your clients will love that sensation of water spray on their lashes and best of all, being able to open their eyes without any type of burning.

Includes charging cable and dropper.